Who we are
Christ First Angels is a Faith-Based 501(c)3 organization founded in Tulsa, Oklahoma, 2010 by Coach David Brown. We are actively seeking sponsors to assist us in transportation costs, food costs, tournament costs, and scholarships. Please feel free to contact us regarding sponsorship benefits.
Currently, we are holding active tryouts for both girls and boys from the 3rd grade all the way thru the 12th grade. While members of our club do pay fee's please don't allow fees to deter you from contacting us, as scholarships are always available to those in need.
We are a basketball club affiliated with the AAU (Amateur Athletic Union), based out of Tulsa, Oklahoma. Our club practices twice a week at Lacy Park Community Center, Chamberland Park Community Center, and Chandler Park. During these practices, we ensure they are well equipped in the fundamentals of basketball and teamwork, as well as biblical principals and prayer. Twice a month, our club plays in traveling tournaments to locations like Witchita, Kansas; Springdale, Arkansas; Texas; and Oklahoma City.
The Christ First Angels STAFF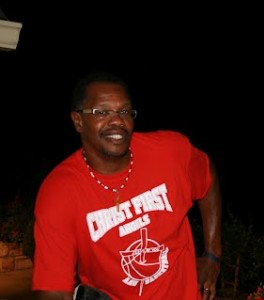 Coach David Brown
The one thing Coach Brown knows how to do, and do well, is play basketball. When he was limited in his physical ability to play, he knew he had to keep the ball in play by coaching the next generation.
Brown has had the pleasure of training many kids up from elementary age and go on to create championship impact in later years. He brings to the table more than 20 years of basketball knowledge.
Western Texas Jr College – National Champion team with a 37-0 record – the First-time the school ever had a championship record
University of Tulsa (TU) – NIT Champions 1981 – Claiming schools first NIT Championship

Graduated with degree in Criminal Justice 1982

Played Professional Basketball in Europe for 14 years

Switzerland – 12 years
Spain – 1 year
Turkey – 1 year

Coaching in the Tulsa, Oklahoma, area for more than 7 years
Pastor Steven Ballard
Every two weeks, Pastor Ballard has the blessing of reaching our youth with the message of Christ. Twice a month, before the players can gain access to the court, they must participate in bible study. We ensure to teach our kids the power of Christ and the compassion of God himself. Pastor Ballard teaches a message of hope and inspiration in a dark world. He also lets them know success isn't something you work to become because it is already built in you.
Pastor Ballard is also a Pastor for New Beginnings Outreach Ministry, and though he has been doing that for two years, he has been conducting bible study with Christ First since it was started back in 2010.
Administration Team
Every organization needs a team to handle the administrative tasks and keep us all on track. The Winton Family, mainly Mr. and Mrs. Winton have taken on that responsibility in a great and impactful way. They are a power couple that we all know for being Concerned Parents who push the kids in a very powerful and loving way.